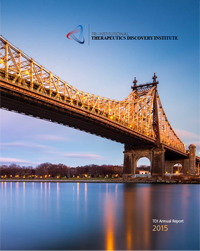 Annual Report 2015
The mission of the Tri-Institutional Therapeutics Discovery Institute is to encourage our Tri-Institutional (Tri-I) community, made up of Memorial Sloan Kettering Cancer Center, The Rockefeller University and Weill Cornell Medicine, to advance their groundbreaking biological discoveries to preclinical studies. TDI provides industrial-scale technical support for academic projects, making it possible to rapidly assess the utility of specific therapeutic targets in disease-relevant contexts.
TDI empowers the Tri-I community to translate research discoveries from bench to bedside by offering a menu of services that are unprecedented in scale and scope in an academic environment. This is accomplished through a series of highly favorable academic-industry partnerships established through TDI, as well as our Innovation & Education Initiative, which provides community-wide training and support in order to maximize the impact of these partnerships on academic drug discoveries.
We achieve our mission by leveraging the infrastructure, staff, and intellectual capital of our academic and industry partners, as well as the generous support of philanthropists.